ICYMI – Crisis at the Capitol
12 January 2021, 12:43 pm.
14 minutes
An explosion caused by a police munition at the Capitol Building, January 6. REUTERS/Leah Millis
As the new year dawned upon us, we were quickly reminded that the world's issues would carry over.
On January 6, supporters of President Trump stormed through the Capitol building, in an attempt to disrupt the formal recognition of his election defeat. The death toll reached 5, including a Capitol police officer. Trump now faces the threat of a second impeachment and Twitter has permanently suspended his account.
Meanwhile, Reuters Next began today, Monday, January 11, with a remarkable line-up of inspiring, diverse and a truly global range of voices. The week-long event hosts diverse voices from around the world, who will examine topics from different perspectives, bringing their passion, experience and expertise to find new ways forward. You can still register here.
Discover the stories that matter this week.
The text, photographs, video, graphics, metadata, quotes, data, information, and all protectable intellectual property available through the this website is the property of Reuters and its licensors. It is provided by Reuters and its licensors to you for your personal use and information only. You may not use the Content or Service for any commercial purpose. You acknowledge that by accessing and using this the service, you agree to be legally bound by and hereby consent to these terms of use and the privacy policy.  Learn more in https://www.reutersagency.com/en/about/brand-attribution-guidelines/
Joint session of Congress certifies Bidenas next U.S. president in Washington

U.S. Vice President Mike Pence and Speaker of the House Nancy Pelosi (D-CA) prepare to read the final certification of Electoral College votes cast in November's presidential election during a joint session ofCongressafter working through the night, at the Capitol in Washington, U.S., January 7, 2021.
Majority of Americans want Trump removed immediately after U.S. Capitol violence – Reuters/Ipsos poll
Fifty-seven percent of Americans want Republican President Donald Trump to be immediately removed from office after he encouraged a protest this week that escalated into a deadly riot inside the U.S. Capitol, according to a Reuters/Ipsos poll.
No COVID-19 herd immunity this year: health experts

The roll-out of coronavirus vaccines in many countries will not provide herd immunity from the global pandemic this year, several health experts said on Monday, citing limited access for poor countries, community trust problems and potential virus mutations.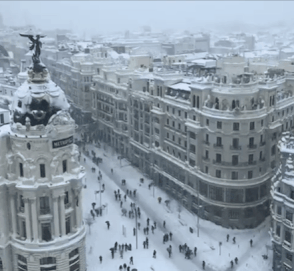 Three die in Spain's biggest snowstorm in decades

Three people died in Spain as Storm Filomena caused travel chaos across the country, blanketing Madrid in the heaviest snowfall in decades leading troops to be mobilised to rescue trapped motorists.